content-full.php
Beats & Bits – The AI music competition 
Listen up – we have another most interesting and inspiring competition for all the creators out there:
Wissenschaft
im Dialog
organizes a nationwide competition for
AI compositions –  Beats & Bits
. Citizens are called to compose their own piece of music using various online-accessible AI software and tools. Everyone is encouraged to engage personally and creatively with the possibilities of AI – in an artistic area, which is not immediately connected with Artificial Intelligence. The
deadline for submission is October 15, 2019!
The submitted pieces will be embedded on the Beats & Bits website and presented to the public. A specialist jury carries out the evaluation of all creations in the meantime. In addition, an online voting tool will also allow the awarding of an
Audience Award
. The public voting for the Audience Award starts immediately after the competition period on October 15, 2019 on
beatsundbits.de
.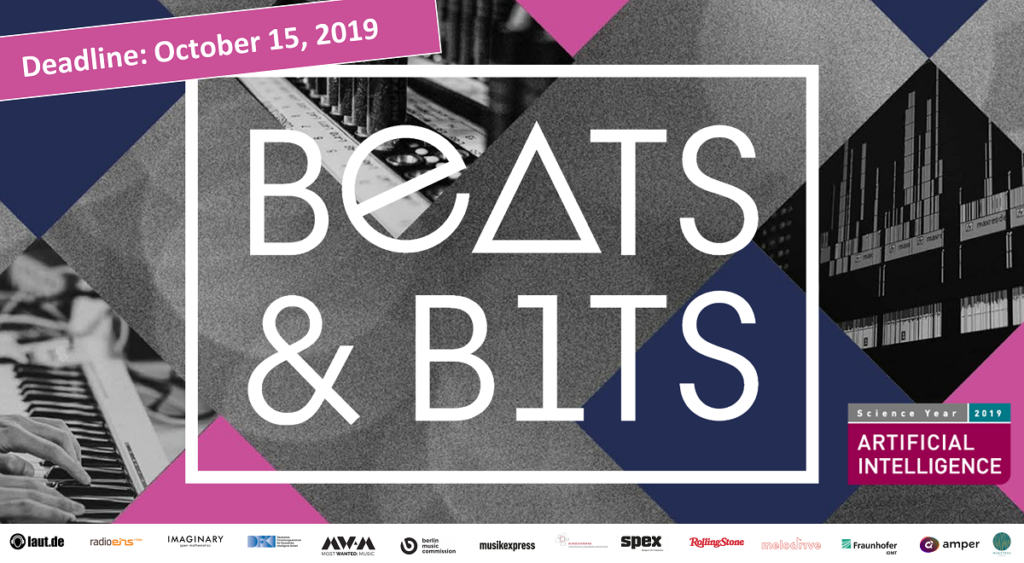 Which software and tools are suitable? And how does AI music work? More information and inspiration can be found at
beatsundbits.de
! Beats & Bits is a project by Wissenschaft im Dialog and funded by Bundesministerium für Bildung und Forschung. Next to MOST WANTED: MUSIC, its partners include: laut.de, radioeins, Imaginary – open mathematics, Deutsches Forschungszentrum für Künstliche Intelligenz GmbH, Bundesverband Hochschulkommunikation, Spex – Magazin für Popkultur, Music Tech German, RollingStone, Berlin Music Commission, amper, Musikexpress, melodrive, Fraunhofer Institut für Digitale Medientechnologie IDMT and State Studio.