MOST WANTED: MUSIC 2022 – A NEW DEAL FOR THE MUSIC INDUSTRY
Most Wanted: Music 2022 will take place 8-10 November – on-site at Berlin's famous Kulturbrauerei and with selected highlights on MW:M's digital conference platform
MW:M22 opens with the festivities of the Listen to Berlin: Awards on Tuesday 8th November followed by the two-day MW:M Convention starting Wednesday 9th. The MW:M Satellites partner events take place on Thursday 10th all over Berlin with a fine-tuned programme of up-and-coming live acts in the evening of that same day. New to the crew will be a selection of music-related film screenings at the MW:M Cinema as well as the MWM: Recruiting Day. The aim of the MW:M Recruiting Day, taking place on 10th November, is to connect music industry companies with applicants to jobs in it. Join this exciting new opportunity!
The music industry needs a New Deal – so we're going to negotiate it, together. The world has changed quickly, and it's contradictory: there are many exciting opportunities, but previously simple concepts are now complex. And the music industry is rebooting – and re-evaluating itself.
So a New Deal is needed: one that works for more people, better. One that is more inclusive, transparent and fair to those that make the art we love. One that uses new technologies to create a fairer system of sharing ownership, money, and power. One where creators collaborate simply, and the results of that work are used in more places. One that significantly reduces environmental impact.
Berlin Music Commission, Most Wanted:Music and Safe the Dance have teamed up to make their events and organisations as safe and welcoming as possible for all guests, team members, invited speakers and artists. With this flyer we will introduce you to our safer space measures and let you know how you can receive support in case someone harasses or discriminates against you. Please note: our priority is always survivors and how they experience a situation. We hope together we can make our events a great experience for everyone!
We aim to be a place where solidarity comes first and everyone can have a good time. Therefore, we do not tolerate any form of racism, sexism, anti-semitism or any other form of discrimination or harassment at this event. Together we want to create a safer space where everyone can feel accepted and respected – no matter what gender identity, religion, ethnicity or ability. By purchasing a ticket and entering the venue, you agree to our code of conduct.  Any violation of the code of conduct will have consequences and may lead to exclusion from the event. The ticket will not be refunded in this case.
Read more about Accessibility & our Safer Space Policy. You will find additional information on www.safethedance.de.
Be a part of Most Wanted: Music 2022!
The MW:M22 Convention programme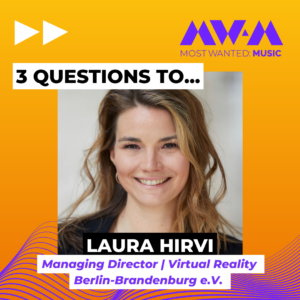 3 Questions to Laura Hirvi (Managing Director at Virtual Reality Berlin Brandenburg) Question 1: What potentials lie in the cooperation of XR and the music