MOST WANTED: MUSIC 2022 – A NEW DEAL FOR THE MUSIC INDUSTRY
Most Wanted: Music 2022 will take place 8-10 November – on-site at Berlin's famous Kulturbrauerei and with selected highlights on MW:M's digital conference platform
MW:M22 opens with the festivities of the Listen to Berlin: Awards on Tuesday 8th November followed by the two-day MW:M Convention starting Wednesday 9th. The MW:M Satellites partner events take place on Thursday 10th all over Berlin with a fine-tuned programme of up-and-coming live acts in the evening of that same day. New to the crew will be a selection of music-related film screenings at the MW:M Cinema.
The music industry needs a New Deal – so we're going to negotiate it, together. The world has changed quickly, and it's contradictory: there are many exciting opportunities, but previously simple concepts are now complex. And the music industry is rebooting – and re-evaluating itself.
So a New Deal is needed: one that works for more people, better. One that is more inclusive, transparent and fair to those that make the art we love. One that uses new technologies to create a fairer system of sharing ownership, money, and power. One where creators collaborate simply, and the results of that work are used in more places. One that significantly reduces environmental impact.
Be a part of Most Wanted: Music 2022!
Some of our confirmed speakers
Lab for Spatial Aesthetics in Sound Berlin(spaes) I Composer, Sound Artist, Artistic Researcher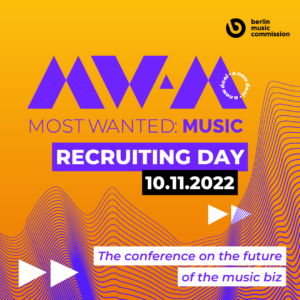 New Matches for a New Deal – MW:M launches Recruiting Day The world of work is changing and so are the expectations of the people in
Register today and get the latest news around Most Wanted: Music.