content-full.php
Recap: These are MOST WANTED: MUSIC 2019 Highlights!
Here's our round-up of MOST WANTED: MUSIC's highlights: Two days of exciting talks, inspiring workshops, powerful networking and great music! Plus: highlights of the MW:M Live showcase premiere and the brilliant listen to berlin: Awards!
It's been almost a week since MW:M closed its doors at Alte Münze Berlin. We set out to make MW:M19 our biggest, greenest, most diverse conference yet! And we feel a bit overwhelmed because it was better than we hoped. However, one of our biggest accomplishments: As one of the first conferences, MOST WANTED: MUSIC achieved the goal of the 50:50 gender balance formulated by the Keychange Initiative in 2019! But before taking a closer look back at the MOST WANTED: MUSIC highlights, here goes a big thank you to all the speakers, visitors and staff who made the conference such a success!
MOST WANTED: MUSIC Highlights in Pictures
MW:M19 was a series of bustling, noisy, exciting moments! We sent our intrepid photographer out to experience the buzz of both days of the conference. So, take a look at some of the many highlights of MW:M19!
Pictures: Dan Taylor Photography
After discussing the value of music,
Scott Cohen
, CIO, Recorded at Warner Music (top right), answered all burning questions.
Holley M. Kholi-Murchison
(top left) taught entrepreneurial skills, and how to become an agent of change.
Prof. Ralf Schmid
(Pyanook, below left) reinvented playing the piano – by using digital mi.mu gloves to enhance his performance! In their panel,
Pamela Owusu-Brenyah
and
Bondzie Mensah Ansah
talked about how Africa is reshaping the European cultural landscape (below right). You will find more pictures on our
MW:M Facebook page.
Feel free to tag yourself!
listen to berlin: Awards 2019 – These are the winners!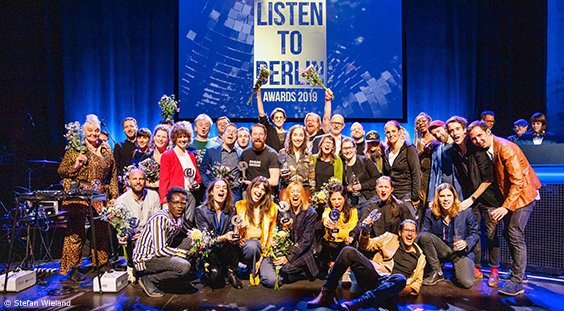 On the eve of MW:M19 at November 5, the
listen to berlin: Awards 2019
were presented. At Kesselhaus Berlin, the most influential artists and key figures in Berlin's music and creative industry were honoured for their outstanding commitment to diversity in a total of nine categories. These are the winners:
Gudrun Gut, Mine, Mona Rübsamen, NOSOYO, Shirley Holmes, Ponte Pilas,
the initiatives
Clubtopia
and
#unteilbar
, the Berlin club
SchwuZ
, as well as the social media hit
"Sage Nein" by Ezé Wendtoin & Just People.
Malonda and Christoph Schrag, who also presented the musical highlights ZUSTRA, OKO, and Junk-E-cat, led through the evening. Find more pictures of the evening in the
press kit
.
MW:M Live: The successful launch of Berlin's new Showcase Format
At Day 1 of MOST WANTED: MUSIC, its own showcase event MW:M Live had its debut! In the cosy rehearsal rooms of the brand-new House of Music, the Berlin Music Commission (BMC) with its listen to berlin 2019/20 compilation, gigmit's Live Music Accelerator Berlin, the British And Irish Modern Music Institute (BIMM), SoundCzech, music:LX, PopKW, BY-on, and Kreatives Sachsen presented twenty hand-picked artists. This up-close, personal setting and the powerful showcases made the premiere of Berlin's new showcase format a very special one. So here are the highlights in pictures:
Pictures: Joris Felix
Presented by gigmit's Live Music Accelerator Berlin:
Wolf & Moon
(left), Arionce and Ben Barritt. After winning the audience prize at the listen to berlin: Awards 2019 a day before MW:M19,
NOSOYO
was another highlight at MW:M Live (right). Again, you can find more pictures on
our Facebook page
!
At last: A big thank you!
Once again, we'd like to say "thank you" to all attendees, speakers and partners of MOST WANTED: MUSIC 2019! See you next year!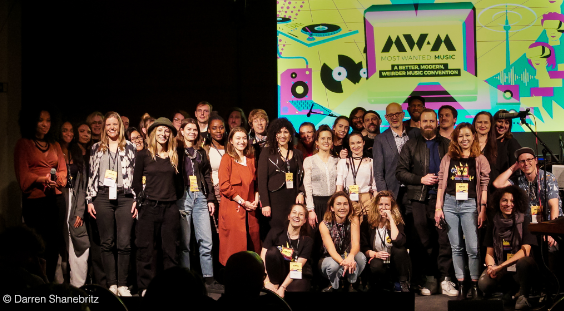 MOST WANTED: MUSIC is an event organized by the
Berlin Music Commission
on behalf of the
Senate Department for Economic Affairs, Energy and Enterprises
as part of the Berlin state initiative
Project Future
 and supported by funds from the
European Regional Development Fund (ERDF)
. MW:M Live is supported by
Initiative Musik gGmbH
with project funds from the Federal Government Commissioner for Culture and Media and the
Senate Department for Economic Affairs, Energy and Enterprises.