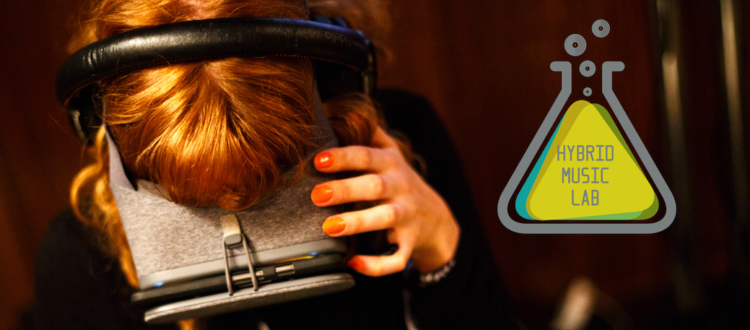 Hybrid Music: Lab – das Beste vom Besten
Das Versuchslabor, in dem die neuesten und coolsten Technologien aus dem Bereich MusichTech von den Teilnehmer*innen ausprobiert und erforscht werden können.
Hybrid Music: Lab hat das Ziel, in kürzester Zeit und im gemeinsamen Austausch, realisierbare Ergebnisse zu produzieren, die sich in den Alltag der modernen Musikindustrie integrieren lassen.
Unter der Leitung von branchenführenden Experten in Arbeitsgruppen, Vorträgen, Panels und Diskussionsrunden zu den neuesten Trends, Technologien und internationalen Musik-Startups, wird diese Versuchsreihe zu einer effektiven Mischung aus Innovation, Spaß und praktischer Anwendung. Gleichzeitig haben die Teilnehmer*innen die Möglichkeit ihre Ergebnisse einem breiteren Publikum vorzustellen.
Das diesjährige Hybrid Music: Lab findet am Donnerstag, den 8. Dezember, im MW:M-Loft statt.
Zu den Highlights gehören:
–  Eine exklusive Whitepaper-Präsentation von Music Ally über Immersive und Smart Audio Marketing, komplett mit einem Expertenpanel der Branche;
–  Alex Jacobi vom With Love & Data Podcast, der eine Session darüber leitet, wie KI Musik emotional definieren kann und wie dieser "emotionale Fingerabdruck" Musikmarketing, Synchronisation
und Werbung revolutionieren könnte;
–  Eine eingehende Untersuchung von Music & VR durch Muki Kulhan und Tim Rittmann in Zusammenarbeit mit Robot Koch;
–  Die INVR Immersive Media Exhibition – eine besondere Zusammenarbeit mit der VR-Kreativ-Community INVR, die den Teilnehmern eine Auswahl an atemberaubenden audiovisuellen
Performances bietet, die speziell für VR entwickelt wurden, darunter Sphere, eine brandneue Zusammenarbeit zwischen dem preisgekrönten Musiker Robot Koch und dem bildenden Künstler
Mickael Le Goff.
Hybrid Music Lab ist ein Projekt der Berlin Music Commission mit freundlicher Unterstützung der Senatsverwaltung für Wirtschaft, Energie und Betriebe.


Hybrid Music: Lab – the cutting-edge of the cutting-edge
The Hybrid Music: Lab is the place to try out and dig into the coolest cutting edge technology at MOST WANTED: MUSIC. The Lab is for topics that need more hands-on time than your average conference can provide. Industry-leading experts will lead in-depth workgroups, talks, panels and round-table discussions on the latest trends, technologies and international music startups.
Hybrid Music: Lab aims to achieve actionable results for attendees to take into their daily music industry work and which will be presented to a wider audience at the MW:M convention. It's the cutting-edge of the cutting-edge – so come along and you can say you were there first!
This year, Hybrid Music Lab takes over MW:M's Loft on Thursday 8.
Highlights include:
An exclusive white paper presentation by Music Ally on Immersive and Smart Audio Marketing, complete with an industry expert panel;
Alex Jacobi of the With Love & Data Podcast, who leads a session on how AI can define music in emotional terms and how this "emotional fingerprint" can revolutionise music marketing, synchronisation, and advertising;
An in-depth exploration of Music & VR by Muki Kulhan and Tim Rittmann in collaboration with Robot Koch;
The INVR Immersive Media Exhibition – a special collaboration with VR creative community INVR, which will let attendees experience a selection of staggering audio-visual performances designed especially for VR, including Sphere, a brand new collaboration between award winning musician Robot Koch and visual artist Mickael Le Goff
Hybrid Music Lab is a project of Berlin Music Commission with friendly support of Senatsverwaltung für Wirtschaft, Energie und Betriebe.