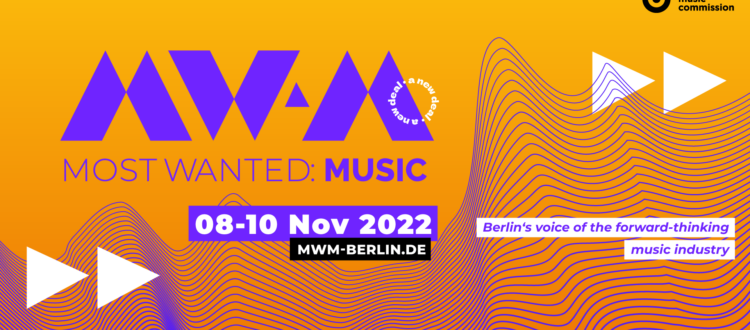 MOST WANTED: MUSIC 2022 – A New Deal for the music industry
The music business conference Most Wanted: Music 2022 (MW:M) takes place on 08-10 November on-site at the Kulturbrauerei in Berlin. Selected highlight-events will be presented on the interactive digital conference platform. MW:M22 opens with the festivities of the Listen to Berlin: Awards on Tuesday 8th November followed by the two-day MW:M Convention starting Wednesday 9th. The MW:M Satellites partner events take place on Thursday 10th all over Berlin with a fine-tuned programme of up-and-coming live acts in the evening of that same day. New to the crew will be a selection of music-related film screenings at the MW:M Cinema.  
Berlin, 29.06.2022 – The music industry is rebooting – and re-evaluating itself. So a New Deal is needed: one that works better for more people. One that is more inclusive, transparent and fair to those that make the music we love. One that uses new technologies to create a fairer system of sharing ownership, money, and power. One where creators collaborate simply, and the results of that work are used in more places. One that significantly reduces environmental impact.
MWM:22 offers changes – by innovative impulses, debates, hands-on workshops and tailored networking sessions. More than 3,000 attendees will be involved in negotiating topics of the new deal.
Olaf Kretschmar, CEO of the Berlin Music Commission (BMC), sees the objectives of MW:M22 as being vital to the development of the music industry: "The music industry needs a New Deal. The world is changing rapidly, becoming more and more contradictory, dynamic and complex. At the same time, new opportunities are popping up. It's important that we as an industry learn to grow faster and more consistently and that we learn to collaborate in new alliances. Not only to find new creative and economic solutions, but also to create a working environment in which everyone involved feels justly treated, rewarded fairly, and in control of their destiny."
Stephan Hengst, Director of Most Wanted: Music, adds: "Most Wanted: Music provides a professional platform for debate and knowledge-exchange and drives the creation of new perspectives and business models for the industry. Furthermore, it is very close to our hearts that people who have experienced discrimination in the past, feel as comfortable and safe as possible at Most Wanted: Music – before, during and after the event, on-site and online. Therefore we will this year be supported by the experts for anti-racism and anti-discrimination Loom e.V."
First Speakers announced and Early Bird Tickets
A quartet of high-impact speakers has already been announced. Andreea Gleeson is Tune Core's Chief Executive Officer, and at MW:M22, she will be leaning on her deep experiences, and her role as US Ambassador for Keychange, to explore how female and diverse leadership is building a fairer, more sustainable and transparent music ecosystem – and explaining why things can be done differently. Dennis Lisk is an award-winning German Hip-Hop pioneer, DJ and entrepreneur. He began his career in 1991 as the founder of the German Hip-Hop-Band Beginner (formerly known as Absolute Beginner). As CEO at Proof of Taste GmbH and Co-Founder of The District VR, he will introduce the immersive, interactive and decentralized metaverse live-event-platform. Dr. Anna Maija Mertens, Executive Director of Transparency International Germany – she'll be addressing one of the music industry's most difficult truths: that it is one of the most intransparent industries of all, in which a few international companies hold the power. She'll explain how it can – and must – change. Jannis Tsalikis – HR Director at Lautsprecher Teufel, and who has held senior roles at VICE Media, and MSL Germany, and published author will discuss how the music business – which can seem a difficult or impenetrable place to work – can find, build and retain the best young talent. 

MW:M22 Early Bird tickets are on sale now until August 27th for only €40.

Call for Participation
Most Wanted: Music invites everyone who strives for A New Deal in the music universe to contribute to this year's Most Wanted: Music conference programme. Ideas can be submitted on mwm-berlin.de until July 29th.

Listen to Berlin: Awards
The Listen to Berlin: Awards recognize remarkable achievements in Berlin's music business. With awards in several categories, including Sustainability, Attitude in the Music Industry, Music Journalism, or the Most Creative Music Video, a light will be shone onto those individuals and initiatives who have pushed the city forward musically and economically – often quietly, and out of the limelight. The Berlin Music Commission has launched a call for nominations on listen-to-berlin-awards.de until August 29th.

Most Wanted: Music and the Listen to Berlin: Awards are projects by the Berlin Music Commission and are supported and funded by the Senatsverwaltung für Wirtschaft, Energie und Betriebe.